This issue puts on public record the second of two New Dietary Ingredient Notifications (NDINs) recently mailed to the FDA for Dr. Aardsma's Anti-Aging Vitamins dietary supplement. The first of these two NDINs was published last issue.[1] There is significant repetition between the two NDINs. Toxicological and efficacy information for MePiA, unique to this issue, can be found in the "History of Use and Evidence of Safety" section.
NDIN for MePA
Sec. 190.6(b)(1)
Manufacturer/Distributor
Gerald E. Aardsma
Aardsma Research & Publishing
412 N Mulberry Street
Loda, IL 60948
Sec. 190.6(b)(2)
Name of Ingredient
methylphosphinic acid (CAS Number 4206-94-4; Chemical Formula CH5O2P; Molecular Weight 80.02 g/mole) [abbreviated as MePiA below]
Sec. 190.6(b)(3)
Description
The dietary supplement will be sold in a plastic dropper bottle containing not more than 20 mL of a 50:50 v/v solution of 125 mg MePiA per liter water mixed with 125 mg methylphosphonic acid (MePA) per liter water to yield 62.5 mg of MePiA and 62.5 mg of MePA per liter of dietary supplement.
Sec. 190.6(b)(3)(i) Level:
2.5 μg MePA per drop (the volume of a drop of water from the dropper bottle is nominally 40 μL.)

Sec. 190.6(b)(3)(ii) Conditions of Use:
The anticipated bottle label, with its conditions of use, is shown below

The anticipated contents of the "Fact Sheet" which will accompany each bottle of supplement, also displaying conditions of use, are shown below.

* * BEGIN FACT SHEET * *

Dr. Aardsma's Anti-Aging Vitamins Dietary Supplement Fact Sheet

Background Information

This fact sheet is intended to help you use Dr. Aardsma's Anti-Aging Vitamins dietary supplement intelligently and beneficially.

Dr. Aardsma (a Ph.D. research scientist, not an M.D.) has discovered that human aging is a vitamin deficiency disease of two closely related long-lost vitamins: methylphosphinic acid (MePiA) and methylphosphonic acid (MePA). According to Dr. Aardsma's research findings, these vitamins were naturally present in drinking water thousands of years ago. A global catastrophe (known from the Bible as Noah's Flood) halted their natural production five and a half thousand years ago. As a result, they are no longer present in drinking water. There appears to be no other natural source of these two vitamins.

MePiA and MePA have only recently been discovered. Research into these vitamins is still underway to answer such basic questions as the optimal daily intake. Dr. Aardsma's Anti-Aging Vitamins dietary supplement is designed to conveniently provide the best present estimate of an optimal daily intake of MePiA and MePA.

According to Dr. Aardsma's research:

Modern human aging is a syndrome of three underlying diseases: (1) Aging 0: congenital MePA deficiency disease, (2) Aging 1: congenital MePiA deficiency disease, and (3) Aging 2: a mitochondrial disease induced by Aging 1, probably subsequent to age 10.

The absence of MePiA and MePA in human diets results in the well-known, ultimately fatal, aging syndrome.

Because these anti-aging vitamins are no longer present in drinking water, 100% of the global population presently suffers from aging.

Before Noah's Flood, when these vitamins were naturally present in drinking water, people were living in excess of 900 years.

Restoration of MePiA and MePA to human diets has potential to improve health by curing Aging 0 and Aging 1.

Restoration of MePiA and MePA to human diets has potential to prevent Aging 2 in young individuals (probably less than age 11) and thereby greatly increase their life expectancy.

Whether restoration of MePiA and MePA to human diets can ameliorate or cure Aging 2 is, so far, unknown.

Who Should Not Take These Anti-Aging Vitamins?

Before Noah's Flood, everybody who drank water took MePiA and MePA without ever being aware of it. This would have been everybody except nursing infants. (It seems probable that nursing infants obtained these vitamins through the mother's breast milk, though this has yet to be demonstrated.)

This suggests the simple rule that everyone other than nursing infants should take MePiA and MePA. However, things have gotten considerably more complicated in regard to health and medicine than they were thousands of years ago, so this rule needs to be applied intelligently and cautiously.

For example, today some individuals are organ recipients (e.g., kidney, bone marrow, heart, etc). These individuals require artificial suppression of their immune systems for their transplanted organs to be accepted by their bodies. The anti-aging vitamins appear to revitalize the immune system, which could conceivably lead to rejection of transplanted organs. So far, there has been no research done on this. Thus, individuals having transplanted organs need informed, professional medical guidance before beginning to take vitamins MePiA and MePA, and they need careful medical supervision once they begin taking these vitamins.

How Long Should I Continue Taking MePiA and MePA?

You should take vitamins MePiA and MePA daily for the rest of your life.

Your body needs to be supplied with all of the vitamins continuously, on a daily basis. A balanced diet will supply all of the known vitamins except these two anti-aging vitamins. Unlike the naturally occurring situation for thousands of years in the past, MePiA and MePA are no longer naturally available in any known food or drink. It is essential that you continue to supplement your diet with these two vitamins on a daily basis to provide your body with the MePiA and MePA it needs for normal maintenance, growth, and development.

Description

Active ingredients:

methylphosphinic acid, 2.5 microgram per drop

methylphosphonic acid, 2.5 microgram per drop

Inactive ingredients: water, ethyl alcohol (<0.02%).

Directions for Use

Take the number of drops of Dr. Aardsma's Anti-Aging Vitamins dietary supplement indicated in the following table in a glass of water daily.

See www.biblicalchronologist.org/RDI.php for elaboration of this table and for the most current daily intake recommendations.

Warnings

Ask your medical caregiver before use if you are the recipient of an organ transplant.

Do not give Dr. Aardsma's Anti-Aging Vitamins dietary supplement to breastfeeding children.

Side Effects

When taken as directed, Dr. Aardsma's Anti-Aging Vitamins dietary supplement appears to be free of negative side effects.

Shelf Life

Keep refrigerated. Keep the bottle tightly capped to minimize loss of water due to evaporation. Shelf life exceeds two months under these conditions.

Should I Inform My Doctor?

As with any vitamin supplement, it is a good idea to discuss with your medical caregiver the inclusion of Dr. Aardsma's Anti-Aging Vitamins dietary supplement in your diet.

Supplement Management

To avoid running out of Dr. Aardsma's Anti-Aging Vitamins dietary supplement, keep an extra bottle on hand at all times.

Further Information

You can keep up with the latest anti-aging vitamin research developments at www.BiblicalChronologist.org.

Information Regarding the FDA

The FDA regulates dietary supplements under the authority of the Dietary Supplement and Education Act (DSHEA) amendment of the Federal Food, Drug, and Cosmetic Act (FFDCA). DSHEA specifically includes vitamins as dietary ingredients of dietary supplements, including them in the "Dietary Supplements" food category and excluding them from the drug category. MePA and MePiA are both vitamins according to the normal definition of "vitamin" including the FDA definition of "vitamin." Thus, Dr. Aardsma's Anti-Aging Vitamins is a dietary supplement, not a drug.

Dr. Aardsma's Anti-Aging Vitamins is a dietary supplement specifically designed to treat, cure (to the extent possible), and prevent the human aging syndrome. At present, 100% of the global human population is afflicted with this syndrome.

The Food and Drug Administration (FDA) does not approve dietary supplements. You must decide for yourself whether a dietary supplement is of benefit to you and whether you should take it or not. Your medical doctor or other health professional can help you with this decision. To help both you and your health professional, we make every effort to publish our research as open-access content at www.BiblicalChronologist.org as quickly as possible and to be as transparent as possible. Our goal is to use these newly discovered vitamins to improve health and to save as many lives as possible from the now unnecessary aging syndrome.

prepared by Gerald Aardsma, Ph.D.
last updated June 10, 2020

* * * END FACT SHEET * * *
Sec. 190.6(b)(4) History of Use and Evidence of Safety
Dietary Ingredient Category
Vitamin.
Evidence Supporting This Category Assignment
This categorization results from decades of research into the cause of human aging by Gerald E. Aardsma, PhD, briefly summarized below. MePA and MePiA have only recently emerged from this research as a vitamin duo responsible for modern human aging.
FDA does not define "vitamin" merely as a list of the thirteen traditional vitamins. This is necessary because the thirteen traditional vitamins were discovered over a protracted period of time and there has never been any scientific reason to suppose that the discovery process has ended or that these thirteen vitamins exhaust the vitamin category.
Casimir Funk, whom many regard as the "father of vitamin therapy"[2] observed that:
The study of degenerative pathological changes of old age… may well belong to a future chapter of vitamin research.[3]
Given that Funk would have been intimately familiar with the displayed phenotypes and physiological symptoms of human vitamin deficiency cases as well as animals experimentally deficient in specific vitamins, such as shown in Figure 1, this statement by him is not surprising.

Figure 1: Niacin deficiency (pellagra disease) in a 6-month-old pig (a), and the the same pig 3 months later fed the same diet except with the addition of niacin to the diet (b). Although the pig in (b) is chronologically older than the pig in (a), the geriatric features of the younger pig were a result of a vitamin deficiency, not a function of chronological age. Photograph source: Chick, H. The discovery of vitamins. Progress in Food & Nutrition Science, Vol 1(1), pages 1-20, 1975.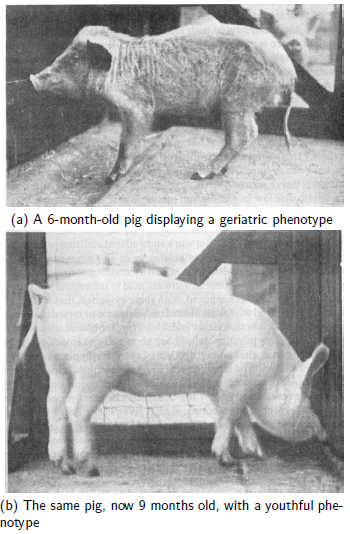 MePiA and MePA appear to be properly classified as a duo of anti-aging vitamins, in fulfillment of Funk's conjecture. Aardsma's research finds that modern human aging is a syndrome of three diseases:
Aging 0: congenital vitamin MePA deficiency disease,

Aging 1: congenital vitamin MePiA deficiency disease, and

Aging 2: a mitochondrial disease induced by Aging 1.
The postulate that modern human aging results from congenital deficiency of an unknown vitamin was formulated decades ago based on the scientific observation that ancient biblical records of human life spans of nearly 1,000 years were historical, not mythological.[4] [5] Eventually, mathematical modeling of ancient and modern human life span data pinpointed either MePiA or MePA or both as the long-sought anti-aging vitamin. When these two substances were tested as independent dietary ingredients using Hsd:ICR (CD-1®) female weanling mice, significant extension of maximal life spans of the MePiA-treated mice was found.[6] MePiA is thus seen to be a vitamin, the lack of which causes a deficiency disease contributing to the aging syndrome and leading to premature death.
MePiA appears to be an exogenous antioxidant vitamin (like vitamin C or vitamin E). MePiA is easily oxidized in vitro to MePA, implying that it will be oxidized by free radicals in vivo to MePA. It may quench hydroxyl radical (OH·), for example, in vivo as follows:

This quenches OH· to OH- and activates methylphosphinate to methylphosphinyl radical, MePiA·. This radical is much more stable (i.e., less reactive) than OH·, being stabilized by resonance delocalization.

The methylphosphinyl radical is then available to react with a second OH·, terminating the chain.

MePiA has an extremely long biological half-life of 135 years.[7] This implies enzymatic recycling of the peroxide above, or of any other free-radical-quenching end product, back to MePiA. In this way, each MePiA molecule is able to quench two hydroxyl radicals each cycle, and cycles may be repeated indefinitely.
This use of MePiA by the body parallels the body's use of vitamin C to quench free radicals. MePiA, however, appears to fill a specialized role in protection of mitochondrial DNA from free radical damage.[8]
MePiA fulfills classical definitions, as well as FDA's definition,[9] of a vitamin as follows:
an organic substance
– MePiA (linear formula CH3PH(O)(OH)) is an organic substance.

that is a minor component of foods,
– MePiA is missing from all natural dietary sources today but was present in minor amounts (μg per liter) in drinking water for millenia in the distant past up until the cessation of its natural environmental production c.a. 2500 B.C.[10]

is essential for normal physiological functions (e.g., maintenance, growth, development),
– As the long-sought anti-aging antioxidant needed to protect mitochondria from free radical damage,[11] MePiA is critically essential for maintenance of normal healthy cellular function.[12] Without an adequate intake of MePiA, the ability of the body to maintain normal physiological processes is impaired, eventually leading to death from the aging syndrome. This is supported by ancient human life span data that can be modeled as a function of MePiA intake,[13] as well as modern experimental data with laboratory rodents showing statistically significant extension of life span due to MePiA supplementation.[14]

is normally not produced within the body in amounts adequate to meet normal physiological needs,
– There is no endogenous synthesis of MePiA in the body.

and which causes, by its absence or underutilization, a clinically defined deficiency syndrome.
– Absence of dietary MePiA contributes as a deficiency disease to the clinically defined syndrome of modern human aging. As is typical for vitamins, the severity of the clinically defined syndrome is dependent on the intake level of MePiA. Since death is the ultimate expression of the aging syndrome, life span becomes a function of MePiA intake, and can be accurately predicted based on the intake level of MePiA over an individual's life.[15] Of particular importance is that there are perceivable and predictable changes in life span due to both increases and decreases in MePiA intake, with increased MePiA intake leading to extension of life span, and decreased MePiA intake leading to decreased life span.[16] Due to ancient human life spans being so highly responsive to changes in MePiA intake level, coupled with significant extension of laboratory rodent life spans due to MePiA intake in modern controlled experiments,[17] the evidence for a cause and effect relationship between MePiA and the aging syndrome is strong.
History of Use
There is an extensive history of thousands of years of (unwitting) use of the MePiA–MePA duo as dietary ingredients from ancient historical life span data.[18] Of particular interest from these data in the present context is the observation that, for an interval of approximately 70 years, the natural intake of MePiA–MePA was abnormally high (probably on the order of 100 μg/day or more) with no apparent negative health consequences and significant positive health consequences resulting in increased life spans.[19]
There is a modest history of use of 50:50 v/v aqueous MePA:MePiA beginning mid-July 2019 and persisting to the present time. Daily intake was generally less than 10 μg of MePiA per day for up to several hundred, informal, voluntary testers. Voluntary testimonials display an overwhelming pattern of reported health benefits with no adverse effects.[20]
Evidence of Safety
Figure 2: Acute oral toxicity for MePiA in laboratory rats compared to the acute oral toxicity of table salt and caffeine in laboratory rats.

Safety of the NDI
There is no known risk to health, from either theory or experience, due to inclusion of MePiA in the diet in tens of μg amounts per day. That dietary supplementation with μg amounts of MePiA per day may "reasonably be expected to be safe," as required by Sec. 190.6, is assured by the smallness of the daily intake, in combination with the water solubility of MePiA.
The acute oral toxicity of MePiA was formally evaluated via standard LD50 tests in laboratory rats.[21] The results showed an LD50 of 940 mg/kg body weight (BW) with a 95% confidence interval of 476 to 1858 mg/kg BW. This places the acute oral toxicity of MePiA 1.9 times lower than the 501 mg/kg BW minimum required for a compound to be considered to be in the low acute oral toxicity category.[22] For general reference on the toxicity scale, comparing to other oral LD50 values in rats, the LD50 of MePiA is 3.2 times more toxic than table salt (NaCl)[23], and 4.9 times less toxic than caffeine[24] (Figure 2).
In addition to being of low acute oral toxicity, MePiA is not mutagenic.[25]
MePiA does not display chronic toxicity. MePiA will be highly dissociated at physiological pH based on its pKa value (pKa = 3.08), and will therefore not bioaccumulate over time. Experiments with mice (designed to look for increased longevity rather than toxicity) reveal only increased longevity and no evidence of chronic oral toxicity. For example, supplementation of the diets of 27 Hsd:ICR (CD-1®) female mice at 100 mg MePiA/liter drinking water beginning at 24.7 weeks of age and ending at 109.6 weeks of age increased maximal life span by 20% relative to the control group not treated with MePiA.[26] This is equivalent to a human intake of roughly 250,000 μg MePiA per day.
The risk to public health of inclusion of MePiA in the diet in adequate daily amounts relative to exclusion of MePiA from the diet appears to be infinitesimal. Conversely, the risk to public health of exclusion of MePiA from the diet relative to inclusion of MePiA in the diet in adequate daily amounts appears to be large. Logic and ethics combined insist that the focus of legitimate safety concerns, with this substance, lies not in toxicology due to its use but rather in metabolic disease due to its lack of use. As with any vitamin, an inadequate daily intake of MePiA in the diet induces morbidity. At present, MePiA is seriously deficient in the global population, including the entire U.S. population. Correction of this deficiency has potential to significantly increase human longevity and to eradicate the aging syndrome from the planet within a single generation. It appears that correcting this deficiency disease should be a major health objective of public health officials everywhere. Because this substance is known, empirically, to be safe when taken in tens of μg amounts, and because currently available evidence both experimental and theoretical says overwhelmingly that it is a long-lost vitamin responsible for some of the symptoms of the aging syndrome as it is universally experienced today, the only action which promotes safety with respect to MePiA is to afford the general public prompt, unrestricted access to it.
Safety of the Dietary Supplement
Ingredients for this dietary supplement are only three in number: (1) water, (2) MePA, and (3) MePiA. In addition, the supplement contains < 0.02% ethyl alcohol as a byproduct of MePiA synthesis.
Commercially available distilled water is used for ingredient 1. Because the dietary supplement is consumed by the end user at ≤320μl per day, use of the commercial distilled water product without further in-plant characterization and monitoring of water quality is sufficient to yield a final dietary supplement which may "reasonably be expected to be safe."[27]
Safety of the second ingredient, MePA, is discussed in a separate NDIN accompanying this one.
Ingredient 3 uses in-house synthesis of MePiA via hydrolysis of commercially available synthetic diethyl methylphosphonite (DEMP). The commercial supplier is MilliporeSigma (formerly Sigma-Aldrich). Hydrolysis produces only aqueous MePiA and ethyl alcohol. MilliporeSigma research grade DEMP (product number 762334) has a certified assay of 97%. The maximum exposure to impurities in the dietary supplement is thus sub μg per day per person. This low level makes further effort to ensure against toxicity unreasonable. Ambient background levels of exposure to uncharacterized compounds—from the air we breathe, the water we drink, the food we eat, the surfaces we touch, etc—is much greater than this. For example, the mass concentration of aerosols in continental tropospheric air exceeds 10 μg/m3. Given a conservative air volume breathed of 10,000 liters per person per day yields an uncharacterized aerosol exposure of 100 μg per person per day. Thus, impurities present in research grade MePiA will not add significantly to an individual's unavoidable ambient background exposure load when the dietary supplement is ingested in the amounts specified for the supplement. Use of MilliporeSigma's commercially available product thus yields a final dietary supplement which may "reasonably be expected to be safe."[28]
The low concentration of MePiA in the dietary supplement (maximum of 1.25 mg per bottle) coupled with the low toxicity of MePiA means that to reach an intake of even 1% of the acute oral LD50 of MePiA discussed previously (940 mg/kg BW), an adult male (73 kg BW) would have to consume in excess of 500 bottles (10 liters) of the dietary supplement. The intake of 10 liters of water required to consume 500 bottles of the dietary supplement places physical limits on the quantity of the dietary supplement that can be consumed at one time. This means that even abusive intake (e.g., disregarding the recommended daily intakes for the dietary supplement and megadosing), can "reasonably be expected to be safe."[29]
In-plant Quality Control will check the concentration of MePiA in mixed batches of the dietary supplement via ion chromatography to ensure a final concentration within 10% of the targeted 62.5 mg MePiA per liter of supplement prior to final bottling of the dietary supplement. ◇