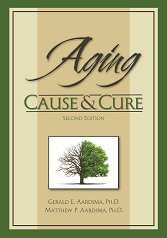 Open Access PDF
Web published October 2, 2021.

OR

Open Access HTML
Web published October 2, 2021.

OR

---
Title: Aging: Cause and Cure
Authors: Gerald E. Aardsma, Ph.D. and Matthew P. Aardsma, Ph.D.
Date of Publication: First edition 2017; Second edition 2021.
Subject Area: Human aging; Biblical life span data.
Description: Ancient life span data from the Bible are used to solve the mystery of human aging and to provide its cure.
From the Back Cover: Have you ever felt helpless as you watched a loved one suffer and die due to aging? Do you dread the aging process in your own body? The question of how to prevent aging and extend human life spans is a topic of intense research activity today. Why do our bodies begin to break down after only a few short decades of life? All investigators admit the problem is one of extreme difficulty. In this book, a father and son team of research scientists, Gerald and Matthew Aardsma, tackle this problem from an angle unexplored by other scientists, enabling them to succeed where others have failed. They begin with ancient life span data recorded in the Bible and show how to answer the question, "What caused these ancient people to live so much longer than we do today?" They then show how the answer is being applied to restore health and longevity here and now. This book will show you, step by step, what aging is and what the specific cure is. Suffering and death due to aging are no longer inevitable for you and your loved ones, or for the world today.
Number of Pages: 326
Format: Paper; soft cover.
ISBN: 978-0-9647665-9-4.